Patient Story: Barbara Henderson
October 19, 2021
Image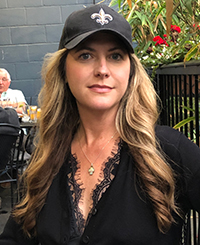 For the past 10 years, Barbara Randazzo Henderson, 52, has made sure to get regular mammograms. She says an aunt had breast cancer 20 years ago, and she knows the importance of regular screening. Usually, she receives a letter after the mammogram saying everything looks fine. 
But after her screening at the Overlake Cancer Center in January 2021, she got a phone call saying she needed a follow-up ultrasound. "It was surprising because I felt so good," remembers Barbara. She had just been to Costa Rica to celebrate Christmas. 
Barbara did some research, and when the radiologist showed her the ultrasound image, she already knew that the jagged edges around the mass in her breast indicated cancer. A biopsy confirmed that Barbara indeed had "invasive lobular carcinoma."
Very quickly, she says, she "met with a whole team of people at Overlake" who would be taking care of her. This included a breast surgeon, radiologist, social worker and a plastic surgeon since Barbara had indicated she wanted breast reconstruction after her mastectomy. Four lymph nodes were removed along with the cancerous breast. She underwent additional testing, which predicted low benefit with chemotherapy; therefore, it was not recommended. Barbara did, however, require radiation treatments for five weeks.
She says one of the most positive aspects of her care at the Overlake Cancer Center was the physical therapy that was provided to help her regain her range of motion and the ability to lift her arms for radiation treatments. Barbara also benefitted from massages that are specially designed for cancer patients. This included massage techniques that she could do at home to help with pain and discomfort.
"I have days when I look at myself and ask 'how did this happen?'" says Barbara who breastfed her three sons when they were born. "I've always been active and never on any medications."
But Barbara is determined to not let cancer prevent her from doing the things she likes to do. Within a week of her mastectomy she was going on short walks. Physical therapy, she says, really helped with the concerns she had about adversely affecting the surgery site. "Now I just go for a walk without thinking too much about it."
One of the best things to come out of her experience, says Barbara, is that she has helped persuade friends and family members to get their mammograms. "That feels good."