Patient Story: Kim Howard
September 30, 2021
Image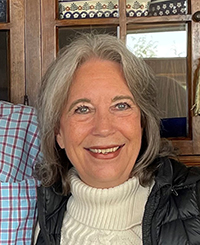 Kim Howard, 68, had just retired and was looking forward to the winter holidays when she saw blood in her urine and promptly went to an urgent care clinic. An ultrasound showed that not only did she have an ovarian tumor, but she also had a pulmonary embolism. It was a shock. Kim had no symptoms until seeing the blood in her urine. 
Ovarian cancer is sometimes called "the silent killer" because often there are no symptoms until it is too late for treatment. The urgent care clinic sent Kim to the Overlake Cancer Center, where a team quickly assembled to map out her treatment plan. Kim says Overlake's approach made her feel confident about her care. "I knew there was a plan and that they knew what they were doing."
Kim received chemotherapy before and after surgery for a total of three months. The pre-surgery chemo helped shrink her tumor so it could be safely removed. Kim is now on an oral biologic agent as maintenance. The agent was chosen specifically for her based on the molecular analysis of her tumor. Kim's embolism was successfully treated at the same time as she was receiving her cancer treatment. "I really felt I was getting the best care." 
But that didn't mean it wasn't a scary and challenging experience. The chemotherapy caused bouts of nausea and constant fatigue. Kim's son and daughter, their spouses and families, along with "wonderful friends" near and far, helped her get through it, she says. 
Kim also appreciated the extra support provided by Overlake. For one thing, a nutritionist helped her with a plan for smaller meals throughout the day to keep the nausea at bay. Overlake also helped her connect with funding programs to offset the cost of prescription drugs.
Kim calls her Overlake surgeon a "rock star" for the way she handled the robotic removal of Kim's ovarian tumor along with a radical hysterectomy. "The robotic surgery meant my recovery was easier and faster," says Kim, whose ovarian cancer was at Stage IV when she came to Overlake. Now, more than a year after chemotherapy and surgery, she is today cancer free. "I felt like Overlake was exactly where I needed to be."