Patient Story: Pranee Poyns
October 19, 2021
Image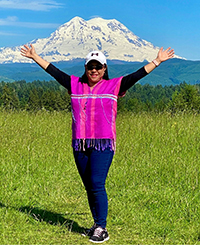 Pranee Poyns, 60, is a very busy woman. She volunteers at Woodinville's Buddhist temple where she cooks for the monks and drives them to their medical appointments. A native of Thailand, Pranee also volunteers to interpret for immigrants as needed. And last but not least, she is helping a niece who's in medical school. "I enjoy all of it," says Pranee. "I enjoy every minute of my life."
Luckily, Pranee wasn't too busy in 2019 to get her regular mammogram screening at the Overlake Breast Health Center because the test revealed an area of concern. A follow-up biopsy revealed she had a noninvasive breast cancer. It was so small, says Pranee, she is amazed it was even found at all.
Pranee had a lumpectomy to remove the cancerous tissue. That was followed by radiation for one month. The treatment made her feel tired, says Pranee, and she slept a lot, but had no major side effects.
Pranee meditates every day and lives her life in a state of gratitude. She says that because of the care she has received at Overlake and her Buddhist faith, she's not worried about what the future holds. "My doctors are very smart. And the people at the Overlake Cancer Center are wonderful—from the front desk to all the medical people. I rate them at 1,000 rather than 100. They are that good." 
Pranee encourages other women to take care of themselves and make sure they have regular mammograms. She's glad she did.