Recipe: Healthy Guacamole
June 23, 2023
Looking for a snack that's delicious and easy to make? Try guacamole! Skip the chips and serve with baby carrots, bell peppers or low-calorie pretzels.
To make this recipe dairy-free, replace the plain Greek yogurt with plain soy or almond milk yogurt. Be sure to pick varieties that don't use any added sugars or flavorings, as they will give your guacamole an off-taste.
Image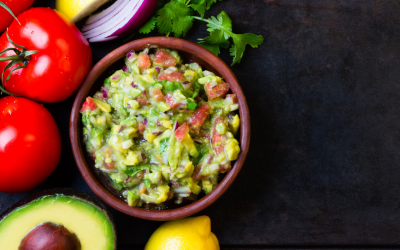 Ingredients
1/2 avocado, pit and skin removed. 

1 small yellow onion (4 oz.).

1/4 red bell pepper (4 oz.).

1 jalapeno, seeds and pith removed.

1 medium tomato (4 oz.).

1 clove garlic.

1/4 cup cilantro leaves, loosely packed (2 oz.).

1 cup nonfat plain Greek yogurt.

2 tbsp. lime juice.

1/8 tsp. sea salt.

1/8 tsp. black pepper.
Directions
Place all ingredients into a food processor fitted with a standard blade. Process until smooth and creamy, about one to two minutes. You can also make the guacamole in a blender.
If you do not have a food processor or a blender, put the avocado in a mixing bowl and mash with a fork until it reaches the desired consistency. Finely dice the onion, bell pepper, jalapeno, tomato, garlic and cilantro and add them to the bowl. Add the remaining ingredients and stir together.
Per Serving
Serves eight; serving size is 1/4 cup. Each serving provides: 45 calories, 1.5 g fat (0 g saturated fat, 0 g trans fat), 0 mg cholesterol, 50 mg sodium, 5 g carbohydrates, 2 g sugar, 1 g fiber, 4 g protein.
Need help developing and maintaining healthy dietary habits? Overlake Nutrition Services offers nutrition counseling from registered nutritionists and dietitians. Contact Nutrition Services today to make an appointment.