January 09, 2023
On the grand spectrum of New Year's resolutions, health issues dominate. Everything from making healthier food choices to exercising more, losing weight, quitting unhealthy habits and managing stress top the yearly lists of good intentions.
This year, people are extending their health-conscious resolutions to help keep their caregivers and communities in good shape, too.
It's hard to miss the screaming headlines—the healthcare industry is in trouble. The pandemic, the "Great Resignation," supply chain woes, inflation, and other economic pressures have created a perfect storm that has hit hospitals hard all across the country.
Image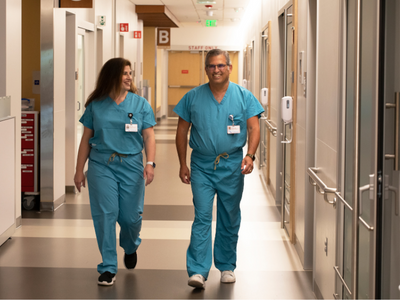 At the same time, the events of the past few years have shown us just how critically important it is to have a well functioning hospital nearby. When COVID-19 swept through the population, our nation's hospitals stepped up—turning on a dime from business as usual to caring for desperately sick patients in a terrifying new reality.
Overlake, in the thick of the action with some of the first COVID-19 patients in the country, responded with all hands on deck.
"All hands" includes everyone on staff AND our most important partners—the people in our community.
When it comes to caring for one another, the Eastside stands out as a community that pulls together. In good times, pandemic times, and times in between, our community responds with generosity and love.
If you or a loved one become ill or injured, you can always turn to Overlake, 24/7/365. With the help and support of our community, we care for everyone who comes through our doors, without regard for ability to pay. The Eastside and Overlake—we've been there for each other for more than 60 years. Together, we'll get through the challenges we're facing.
If your good health resolution extends to keeping your neighbors well, please consider making a gift to your community's hospital. Thank you for your support.
Ways to make a gift for the health of your community: Visit overlakehospital.org/giving or call 425.688.5525.
Image