Traveling with Diabetes: Know Before You Go
July 13, 2022
Planning to travel over the summer? If you have diabetes, you may wonder what to bring, how to travel with your supplies and medications, how travel will affect your glucose numbers, and what to do in an emergency. With a little planning, you can enjoy a safe and healthy trip. 
Image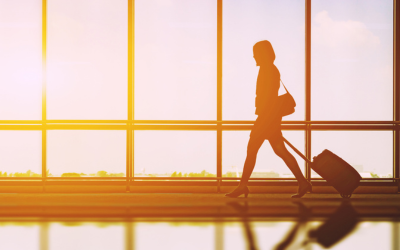 What should I do before I go?
Look up which pharmacies are close to your destination. Always have your provider's contact information on hand. If your luggage or supplies become lost, you may need this information to have your medication sent to a local pharmacy. If you need to fill a prescription before you travel, contact your pharmacy and/or provider to determine if you can receive refills early.
What should I bring?
Bring enough prescribed medications plus a little extra. You should always have snacks on hand if you are on medications that can lower your glucose levels. Snacks can help raise glucose if you need to delay meals. Ideal snacks are those that rapidly increase glucose levels, such as juice and candy that contains sugar but not added fat. Individually packaged candy and fruit snacks are easy to transport and have a known carbohydrate count. Other good snack options include fruit and nuts (carb and protein), crackers and cheese.
How do I travel with my medication and diabetes supplies?
Bring medications or supplies in your carry-on bag rather than checked luggage. Ask your provider to write you a letter about the supplies you are traveling with—such as needles, insulin, meters, sensors and/or an insulin pump. These supplies are approved carry-on items. When wearing a continuous glucose monitoring (CGM)/insulin pump, avoid the full-body scanners and instead opt for a hand screening to reduce the risk of damaging the device. Let the Transportation Security Administration agents know what you have on you and in your baggage. 
Diabetes device apps use Bluetooth short-range wireless technology and should not be an issue when using on your flight. Being in airplane mode on your phone will not cause a disruption to CGM/pump functionality and/or data being accessible via apps—except for apps that allow for data sharing with those other than the user.  
Keep medications in their bottles to allow for easier identification. Medications, specifically insulin and non-insulin injectable medications, may need to be kept in cooling cases to avoid extreme temperatures. Note that you should never freeze these medications.
How will travel affect my glucose levels?
Time changes, stress related to traveling, increased activity, eating out and sleep changes can impact glycemic control. If traveling across time zones, plan when to take your medications. Discuss this with your provider ahead of any trip. Following your provider's recommendations—concerning the frequency and timing of glucose checks—can help you better identify low/high glucose and mitigate potential risks.
What to do in an emergency?
Talk with your provider about an emergency plan in the event of low/high glucose.

Have your provider's contact information.

Know your target glucose values.

Stay hydrated.

Increased activity may increase the risk for low glucose. Be sure to assess glucose levels for any symptoms of low glucose. Symptoms may include shaking, sweating, dizziness, and/or irritability.
If you'd like personalized advice about your upcoming travel plans, talk with your healthcare provider regarding a referral to meet with an Overlake Diabetes Education professional. Learn more at Diabetes Education Services | Overlake Medical Center (overlakehospital.org).