Weathering Seasonal Depression in the PNW
November 13, 2023
Week after week of gray skies, cold temperatures, wet weather and short daylight hours can take a toll on anyone's good humor. But for some people, these conditions cause a more significant downturn than a passing case of the blues. This kind of annually recurring depression is aptly named Seasonal Affective Disorder or SAD; and it affects many residents of the Pacific Northwest, where gloomy winter weather is the norm. 
What are symptoms of SAD?
SAD symptoms tend to come back and then improve at about the same times every year. These are the most common symptoms of SAD:
Image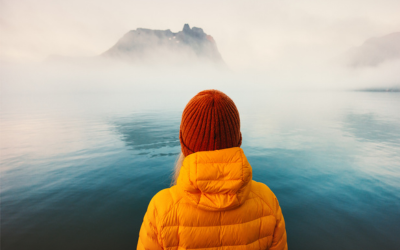 Loss of interest and pleasure in activities formerly enjoyed.

Grouchiness and anxiety.

Feelings of guilt and hopelessness.

Excessive tiredness (fatigue).

Decreased sex drive.

Decreased ability to focus.

Trouble thinking clearly.

Physical problems, such as headaches.
According to the National Institute of Mental Health, winter-pattern SAD may have additional symptoms including:
Oversleeping and daytime drowsiness.

Overeating, particularly with a craving for carbohydrates, leading to weight gain.

Social withdrawal (feeling like "hibernating").
10 Ways to Help Ease SAD Symptoms
Get professional help.

If you think you may be depressed, see a healthcare provider as soon as possible. SAD may be diagnosed after a mental health exam and a review of your health history. These are done by a psychiatrist or other mental health professional. Depression is most often treated with light therapy, psychotherapy, and in some cases antidepressants.

Set realistic goals

. Don't take on too much. Break large tasks into small ones, set priorities, and do what you can as you can.

Don't struggle alone.

Let your family and friends help you. It's important to connect with other people and confide in someone about your experience. Schedule times to check in weekly with your support network.

Do things that make you feel better.

Going to a movie, gardening, or taking part in religious, social, or other activities may help.

Doing something nice for someone else or volunteering can also help you feel better. Get outside as much as you can.

Maintain a consistent sleep schedule by waking up and going to bed at the same time every day.

Eat healthy, well-balanced meals.

Get regular exercise.

Expect your mood to get better slowly, not right away.

Feeling better takes time.

People don't often snap out of a depression. But they can feel a little better day by day.

Stay away from alcohol and illegal drugs

. These can make depression worse.

Delay big decisions until the depression has lifted.

Don't make a big change right away, such as getting a new job or getting married or divorced. Talk it over first with others who know you well. They will likely have a more objective view of your situation.
In crisis
If you have thoughts of harming yourself or others, tell someone right away. Ask a friend or family member to stay with you. Don't stay alone. Call or text 988. You will be connected to trained crisis counselors at the 988 Suicide & Crisis Lifeline. You can also call the Lifeline at 800.273.8255 (TTY: 800.799.4889). An online chat option is also available at 

988lifeline.org

. Lifeline is free and available 24/7. Until you feel better, ask a trusted family member or friend to remove all firearms from your home and secure them in a location unknown to you.
Overlake offers a variety of mental health classes teaching how to identify, understand, and respond to signs of mental health and substance use challenges.