What is LSVT Therapy and How Can it Help with Parkinson's Disease?
April 01, 2023
April is Parkinson's Disease Awareness Month. Parkinson's disease (PD) is the fastest-growing neurodegenerative disease globally, affecting all facets of a person's life and relationships. PD impairs nerve cells that control movement, thinking, talking and swallowing, to name a few. We spoke with Occupational Therapist Lorinda Hagstrom, OTR/L, to learn more about LSVT therapy and how it can help individuals with PD regain control of their lives.
Image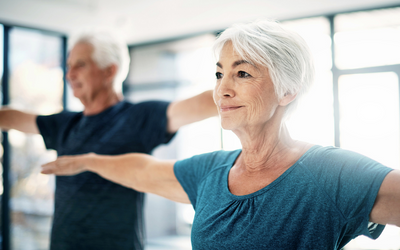 Q: What is LSVT therapy and how can it help with Parkinson's disease?
A: LSVT therapy was initially developed from principles of the Lee Silverman Voice Treatment program (named for a woman living with Parkinson's). LSVT consists of two scientifically supported and research-based treatment methods: LSVT BIG (occupational/physical therapy) and LSVT LOUD (speech therapy). LSVT therapy can help individuals living with PD and other neurological disorders have an improved quality of life. LSVT BIG addresses the movement deficits related to PD and its impact on daily functions, including walking. LSVT LOUD treats the voice and speech disorders that develop in PD patients.
Q: Who should consider undergoing LSVT therapy? 
A: Almost anyone diagnosed with PD should consider LSVT therapy. Although treatment protocols are standardized, exercises and functional tasks are personalized to meet each person's unique challenges and goals, regardless of their disease stage or level of disability.
Q: How are LSVT sessions typically conducted?
A: LSVT BIG and LSVT LOUD each consist of 16 sessions: four days per week for four weeks. Sessions consist of one hour with an LSVT Certified Therapist. The therapist will recommend daily homework and activities as well.
Q: What results can you expect from LSVT?
A: Your therapists will do a number of tests and measures during your initial evaluations, and again at the end of therapy. Those who have completed LSVT have shown documented improvement in: walking speed, balance scores (decreased fall risk), dressing performance, bed mobility, transfers and communication.
Our clients are always excited when they begin to feel and see the changes. We often hear comments about improved movement, posture, volume and clarity of speech, ability to dress (including managing buttons/fasteners), getting out of bed easier and returning to valued activities. As a therapist, it is very rewarding seeing a client's joy and expressions of relief as they improve over the four weeks and their hard work pays off!
Q: When is the best time to start treatment? Can LSVT be beneficial for advanced Parkinson's?
A: As with any diagnosis, the earlier the intervention starts, the better the outcomes. However, as mentioned earlier, exercises and tasks can be adapted for those with a more advanced disease process. Regardless of your disease stage, research continues to support improved life quality for those who complete the program.
Q: How do I get started with LSVT?
A: A physician's referral for outpatient occupational and physical therapy is required for LSVT BIG, and a referral for outpatient speech therapy is required for LSVT LOUD. Although the protocol does not need to be on the referral, the diagnosis is required. Typically, the referral comes from a neurologist but a primary care physician can also give a referral. Once a patient's insurance is verified, our office will set up an initial evaluation appointment to establish plans of care; then, we will work with the patient to schedule their 16 sessions.
If you or a loved one are suffering from PD, schedule an appointment with your healthcare provider to discuss if an outpatient therapy referral is right for you.