Overlake Medical Center & Clinics earns national awards for neurology, cardiovascular care
June 16, 2022
Image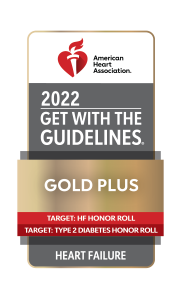 Overlake Medical Center & Clinics earned multiple awards from the American Heart Association's Get With The Guidelines® program. These awards recognize health systems for following up-to-date, research-based guidelines for the treatment of heart disease and stroke, ultimately leading to more lives saved, shorter recovery times and fewer readmissions to the hospital.
This year, Overlake received these honors:
Target: Heart Failure honor roll
Target: Type 2 Diabetes honor roll
Every 40 seconds, someone in the U.S. has a stroke or heart attack, and heart disease and stroke are the nation's No. 1 and No. 5 causes of death, respectively. Studies show patients can recover better when providers consistently follow treatment guidelines.
"We are extremely proud of this accomplishment. These awards are a testament to the compassionate care and collaborative nature of our team," says David Winokur, Director of Medical Imaging and Cardiovascular Services. "Our patients trust us to provide safe, reliable and leading-edge care, and our staff and providers work hard to exceed those expectations. It is an honor to work alongside these caregivers who provide extraordinary care to each of our patients."
"Overlake's recognition from the American Heart Association reflects the commitment of the organization in providing evidence-based, quality care of patients with stroke year after year," said Steven O'Donnell, MD, Stroke Medical Director of the Eastside Neuroscience Institute at Overlake.
"We are pleased to recognize Overlake Medical Center for its commitment to caring for those in their community who need cardiovascular and stroke care," says John Warner, M.D., FAHA, past president of the American Heart Association and executive vice president for health system affairs at UT Southwestern Medical Center, in Dallas. "Hospitals that follow the American Heart Association's quality improvement protocols often see improved patient outcomes, fewer readmissions and lower mortality rates – a win for health care systems, families and communities."