'I Feel Like I Have My Life Back Again': New Mom Finds Long-Term Relief for Recurring Headaches
July 14, 2023
After the birth of her first child, Orma Defreitas, 41, spent four months suffering from debilitating headaches. She says the pain was so severe it impacted all aspects of her life, including caring for her newborn.
"My hand was my baby's first toy. His dad bought a lot of beautiful toys for him but I couldn't even pick one up. The pain from my headaches was that intense. So, I would open and close my fingers to make my baby smile. Before going to Overlake, that was the most I could do."
Image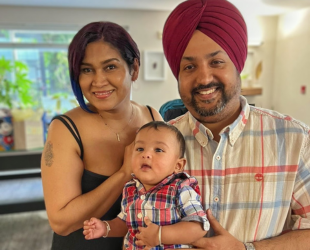 Desperate for a solution, Orma sought the advice of several doctors throughout the Eastside. She recalls receiving a variety of recommendations, from antibiotics to antidepressants, but nothing stopped the pain in her head. When the pain became too much, she was taken to Overlake's emergency room (ER), where a magnetic resonance imaging (MRI) scan was performed.
The MRI revealed the cause of Orma's prolonged suffering: a benign meningioma—the most common type of brain tumor in adults—had developed in the back of her skull, near her brainstem and cerebellum. Though non-cancerous, these types of tumors can still cause significant neurological distress. As the tumor grew in size, so did the increased pressure on Orma's brainstem, causing headaches, hearing loss, blurred vision and loss of balance.
After the diagnosis, Orma met with Amitoz Manhas, MD, FAANS, a neurosurgeon with Eastside Neuroscience Institute—a partnership between Overlake Medical Center and EvergreenHealth. Dr. Manhas recommended a retrosigmoid craniotomy, a surgical procedure that allows the neurosurgeon to access and remove the cranial tumor through a small opening made in the skull.
Orma recalls her feelings of relief after their initial meeting, "I trusted Dr. Manhas and his team completely. I had no fear. Absolutely no fear. I just wanted the headaches to stop." Two days after arriving at the ER, Orma underwent surgery to remove the cranial tumor. Following the procedure, Orma was moved to a recuperative suite where her care team closely monitored her condition. After four days, she was able to return home to her family.
"I trusted Dr. Manhas and his team completely. I had no fear. Absolutely no fear. I just wanted the headaches to stop."
Dr. Manhas says she will still need to receive repeat imaging as part of her follow-up care but no additional treatment or rehabilitation is necessary.
"We stay focused on our ultimate goal," Dr. Manhas says, "which is for each and every patient to come back to our clinic and say 'my quality of life is better and I'm feeling great.'" Orma says she couldn't agree more, "Today, I feel normal. I feel like I have my life back again."
---
With a shared vision of providing high-quality, patient-centered neuroscience care to the Eastside and beyond, Overlake Medical Center and EvergreenHealth have joined forces to form the Eastside Neuroscience Institute to deliver comprehensive care from top providers in the Pacific Northwest. To learn more, visit: eastsideneuroinstitute.org