Patient Story: Kelly Smethurst
September 28, 2021
Image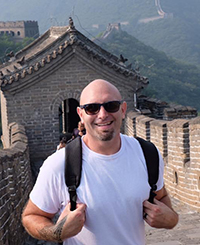 Last year, Kelly Smethurst was having abdominal pains and saw blood in his stool. But he didn't do anything right away. A married father of two young boys, he was busy with family and his work at Anderson Hay in Ellensburg. 
"I'm like a lot of guys," says Kelly. "I just didn't want to think anything might be wrong."
In early August, Kelly saw his doctor who recommended a colonoscopy. After that procedure, the doctor sat down with Kelly and his wife, Anne, to deliver the news that Kelly had cancer. He was only 39.
"We were stunned. Cancer was something that happened to other people, older people," says Kelly. 
When he called his parents with the news, Kelly's mother said he should go to Overlake right away. She had worked there before retirement and was confident Overlake doctors could help him. She was right.
At Overlake, doctors discovered a 10-centimeter tumor in his colon, and Kelly was diagnosed with stage 4 colorectal cancer. Also, Kelly's doctors found spots on his lungs and liver. The medical team at Overlake developed a focused plan of attack. Overseeing Kelly's chemotherapy would be medical oncologist Jason Comer, MD; his radiation treatment would be handled by radiation oncologist William Brent Reece, MD; and finally, his surgery would be performed by colorectal surgeon Ian White, MD.
Because of the confidence and commitment he felt from these doctors, Kelly made a commitment of his own. "I decided that this was not going to take me down. I had these doctors who were going to fight for me and I was going to fight right along with them," he says. 
Kelly began visits to what he calls "the chemo spa" at Overlake, where he would be infused with drugs to attack the cancer. Along with radiation, it was a successful effort to shrink the colon tumor before the surgery to remove it. 
Kelly shares that through the hundreds of hours of chemotherapy and radiation, he worked remotely and "never missed a day." He handled the nausea that accompanied the chemotherapy by "eating even when I didn't feel like it." He says he would excuse himself from the dinner table to go to the bathroom and throw up. Then he would come back, sit down and continue to eat. "I wanted my boys to see that I wasn't giving in," he says. "I stayed as strong as I could."

During his many visits, Kelly appreciated how the Overlake nurses and support staff greeted him and his wife. "They immediately got to know us," he explains. "I actually looked forward to coming in for treatments so we could catch up on things."
It was all worth it, says Kelly. His latest PET scans have been clear, and today he is considered cancer-free. "I know this doesn't mean I will always be cancer-free," he adds. "But I'm being carefully monitored, and I know if anything shows up, my team at Overlake is going to handle it. And I am, too."