Robotic-Assisted Surgery is Here to Stay
May 08, 2023
"Robotic surgery" may seem like science fiction to some. Fortunately, procedures that use robots are very much a reality. Under the control and expertise of a skilled surgeon, robotic surgical devices can be incredibly useful tools—providing patients with more minimally invasive treatment options.
During a robotic-assisted procedure, the surgeon uses a computer console to steadily and precisely control the robot's movements. This lets the surgeon access tiny spaces more easily and see an enhanced view of the operation. For patients, this means smaller incisions, less blood loss and quicker recovery times.
Image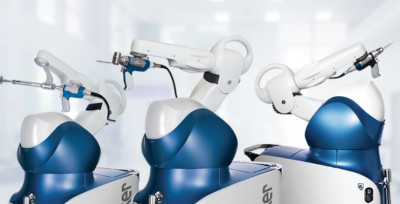 Since the creation of Overlake's robotic-assisted surgery program in 2010, Overlake Medical Center & Clinics has continued championing these new technologies to improve patient experiences. Many patients have benefitted from robotic-assisted procedures since the addition of our first robotic surgical device, the da Vinci Si. Over two decades, Overlake has continued to advance its technological offerings and recently added two new devices, Mako and ROSA.
Stryker's Mako® System is a robotics-assisted surgical platform used during joint replacement surgeries, including total knee, partial knee and total hip replacement. Before surgery, the Mako device uses a CT scan to generate a 3D model of the patient's unique bone structure. Using the device's robotic arm and the 3D model, the orthopedic surgeon can have better control and improved accuracy during the alignment and placement of implants.
ROSA®, Robotic Surgical Assistant, is a robotic device used during joint replacement surgeries, including total hip and total knee replacement. This device assists the orthopedic surgeon in making more precise and accurate bone resections during surgery and can reduce the need for further revisionary procedures in the future.
In addition to joint replacement procedures, our robotic-assisted surgical program is being used for many types of surgeries, including colon and rectal, general surgery, gynecology, gall bladder surgery, urogynecology, urology and weight loss (bariatric) surgery.
To learn more about robotic surgical services at Overlake, visit: overlakehospital.org/roboticsurgery.