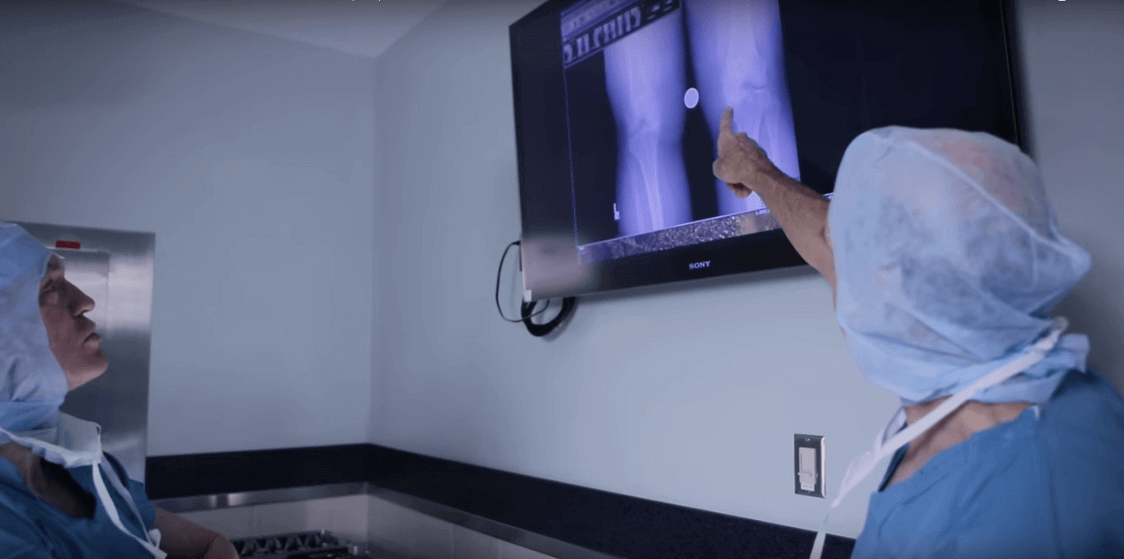 Nationally Recognized Leader
We offer a comprehensive orthopedic program with the region's most qualified surgeons heading up a talented team of anesthesiologists, nurses and physical and occupational therapists.
Overview
More than 20 million Americans suffer from osteoarthritis. Many find everyday activities such as walking, driving, exercising — even lying down or sleeping — extremely painful and at times impossible. For some, relief can come from non-surgical measures. For those whose pain and loss of function become severe and not relieved by such treatments, joint replacement is often recommended.
Most patients who undergo joint replacement surgery experience significantly reduced pain levels.
Is Joint Replacement Right For You?
If you frequently experience any of the following, it might be time to ask your doctor about joint replacement:
Pain in your hip or knee that keeps you awake at night
Little or no help from pain medications or pain that continues to worsen
Difficulty walking or climbing stairs
Trouble standing from a seated position
Having to limit or quit activities you enjoy because you're in too much pain
The Joint Replacement Center at Overlake offers a comprehensive orthopedic program with the region's most qualified surgeons heading up a talented team of anesthesiologists, nurses, and physical and occupational therapists who perform all available joint replacement options, including computer assisted surgery and minimally or less invasive surgery.
As an orthopedic unit in the hospital, the Joint Replacement Center enables patients to work closely with our team in an environment that views our joint replacement patients as healthy patients.
With a joint education class, a detailed handbook and access to the joint replacement manager, patients are guided through the entire process with information and support.
The Joint Replacement Center at Overlake sets itself apart by offering:
Nationally and internationally recognized surgeons who specialize in joint replacement surgery.
Cutting edge technology and longer lasting replacement materials that produce optimal results.
Advanced surgical techniques with less invasive and minimally invasive partial joint replacements.
A consistent team approach that provides support and continuity of care in a positive environment for patients.
Comprehensive education that enables patients to be active participants in their own recovery.
Previously, joint replacement was primarily for adults over age 65. Improved technology has made stronger and longer-lasting artificial joints feasible for active, younger people. Today there are a variety of joint replacement options available, including less invasive total joint replacement and minimally invasive partial joint replacement. No matter what you enjoy doing — swimming, competitive cycling, gardening or playing with your children or grandchildren — the key to a good quality of life is moving without pain.
How Can My Life Change With Treatment?
A return to mobility
Regaining a sense of your former lifestyle
Significantly reducing or eliminating pain
The mission of the Joint Replacement Program at Overlake is "Motion is Life." Our mission is to get you to a previous level of mobility so you can get back to enjoying the things in your life that bring you joy. The key to a good quality of life is moving without pain.
Patient Resources
Congratulations on your decision to undergo total joint replacement surgery at Overlake Medical Center. We are thrilled you chose us and look forward to supporting you on your surgical journey.
Education Manuals 
National Association of Orthopaedic Nurses (NAON) produces patient education manuals for total hip and total knee replacement. NAON is a nationally recognized body that has created evidence-based booklets that provide general information about your total joint surgery, including information about preparing your home, medical appointments, infection prevention, fall prevention, pain management, medical devices, and activity and exercise. Please navigate to the webpage below and download and read the appropriate PDF booklet (Total Hip Replacement or Total Knee Replacement) at orthonurse.org/page/patient-education.
Important Documents
Please review the following handouts as they pertain directly to care received at Overlake Medical Center:

Questions or Concerns
Call Overlake's Total Joint Replacement Helpline at 425.688.5579, which is available for you to call 24/7/365. This non-emergent line should only be utilized for questions regarding your upcoming total hip or total knee replacement surgery. This voicemail box is checked Monday through Friday from 7 a.m. to 3 p.m. Please allow up to one business day for a return call. 
Note: If you have questions about your medications, need a prescription refill or need information related to your clinic appointment, please call your surgeon's office directly. 
Quality & Safety
Overlake Medical Center achieved the following recognition from Healthgrades:
One of America's 100 Best Hospitals for Joint Replacement in 2019
Joint Replacement Excellence Award™ for 2016, 2017 and 2019
Five-Star Recipient for Total Knee Replacement, For Years in a Row (2016-2019)
Five-Star Recipient for Total Hip Replacement, Eight Years in a Row (2012-2019)