Your Dedicated Nursing Team
Image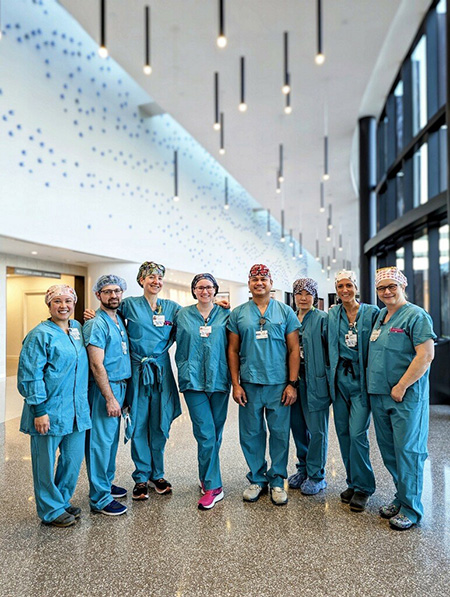 Patients undergoing cardiovascular surgery are served by a dedicated group of 11 perioperative nursing professionals who come together in harmony with three cardiothoracic surgeons to perform highly complex surgeries. These nurses perform their duties in both scheduled and emergent settings, all hours of the day, and sometimes, seven days a week in rotational teams.
If you asked them about their favorite aspect of this team, they would use words such as "collaborative, dynamic, dedicated, and fun-loving family." As you watch them in action, during either a scheduled or emergent surgical case, it is clear their team actions resonate all of these words. 
As a member of this specialized team, it takes a great deal of patience and focus, and at times, an acute attention to detail. All members of this team perform the duties of scrub or circulate with both roles keenly focused on patient safety and successful clinical outcomes. Their familiarity is not with just surgical instrumentation, complex supplies and patient safety, but also recognition and anticipation while first assisting the cardiothoracic surgeon and the assigned physician assistant during critical moments, such as those during vessel bypass, valve replacement surgeries or ECMO placement (extracorporeal membrane oxygenation).
The orientation process for this specialty includes anywhere from three to 12 months of familiarization and preceptor time in both the scrub and circulating roles in order to perform these roles in a multitude of surgeries. Not only are team members using their skills during a variety of open-heart surgeries, but also for surgeries involving the lungs (including robotic surgery). They also assist with a newly advanced procedure that involves partnerships with the cardiac catheterization lab team members to implant aortic valves through a minimally invasive approach.  Our cardiothoracic surgery nursing team members are on standby in the event complications occur and a more in-depth cardiac surgery is required at a moment's notice.
If you are ever in need of cardiothoracic surgery at Overlake Medical Center & Clinics, please rest assured that you are in the very best hands of not only exceptional surgeons, anesthesia providers and perfusionists, but also a very focused, dedicated and committed group of nurses from the surgical suite. Their hearts are into their work with full force and passion to ensure that your heart, or that of your loved one, are cared for in the very best way possible.