Metabolic & Bariatric Surgery
Image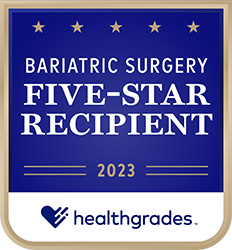 Metabolic and bariatric surgery results in significant, long-term weight loss and helps to prevent, improve or resolve many obesity-related conditions such as type 2 diabetes, heart disease and certain cancers. Surgical procedures are also linked to increased life span where general life expectancy can improve by 89%, and risk of premature death can be reduced by 30 to 40%.

Obesity is the second leading cause of preventable death in the United States, following smoking. However, less than five percent of people with severe obesity (those who are 80 to 100 pounds or more overweight) are able to lose this weight through exercise and dieting.
When these efforts have failed, you and your health care provider should discuss weight loss (bariatric) surgery and if it is the right option for you.

If surgery is the best option for you, it is our commitment to help guide you through this life-changing journey. Before surgery you will undergo medical, nutritional and psychological evaluations. We encourage you to learn more about healthy nutrition, increase your physical activity and establish a local support structure to ensure your long-term success. As a patient in our care, we will:
Treat you with compassion, dignity, understanding and respect.
Provide the highest quality surgical services.
Provide you with life-long follow-up care.
Provide support and education before and after surgery.
Sleeve Gastrectomy
The Sleeve Gastrectomy has become the most commonly performed bariatric surgery in the United States. With this procedure, two-thirds of the stomach is removed using a stapling device. The new stomach is roughly the size of a banana, capable of holding approximately 150 mL. There is no rerouting of the gastrointestinal tract in this procedure.
Roux-en-Y Gastric Bypass
The Roux-en-Y Gastric Bypass is considered the gold standard bariatric procedure. In this procedure, a small stomach pouch is created from the stomach. The new stomach pouch is capable of holding approximately 15 to 30 mL. Although the old remaining stomach no longer stores food, it continues to function and secrete digestive juices. The small intestine is divided into two sections. The lower section (Roux limb) is connected to the newly created stomach pouch. The upper section of the intestine (Biliopancreatic limb) is connected further downstream on the small intestine.
Robotic da Vinci® Bariatric Surgery
Overlake Medical Center first established its robotic surgery program in 2010. Since then, it has become a regional leader in the field and now offers robotic assisted procedures in urology, gynecology, general surgery and bariatric surgery. Visit the da Vinci website.
Patient Resources & Forms
If you have scheduled an appointment at Overlake, you may access and complete required forms prior to your appointment.