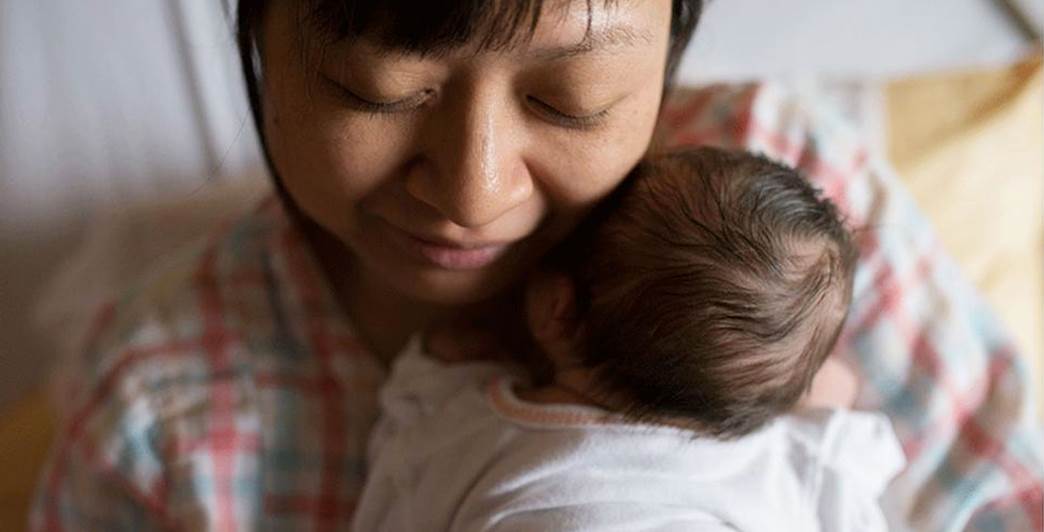 Caring For New Moms and Babies
Providing a range of services to meet you and your baby's needs.
Overview
Our Mom & Baby Care Center offers a range of services for mom and baby's needs after pregnancy and childbirth including lactation help and classes. Continued care is needed after pregnancy and childbirth and we have a range of services to meet you and your baby's needs. From postpartum follow-up to lactation services, the Mom & Baby Care Center can help.
Services at the Mom & Baby Care Center 
After childbirth, families are scheduled to visit with a postpartum nurse to ensure mother and baby are healthy and healing well. Services available at our Mom & Baby include:
A postpartum follow-up visit two to three days after discharge to assess breastfeeding and maternal-infant needs.
Private consultations with our lactation specialists.
Telephone counseling with our breastfeeding experts, by calling 425.688.5516.
Breastfeeding support group facilitated by a La Leche League group leader. La Leche League is an organization that gives information and encouragement to mothers who want to breastfeed their babies.
Electric breast pump rental and instruction. You can rent one of our efficient, affordable pumps.
Retail sales of breastfeeding equipment, pumps and accessories, stools, pillows, lanolin and more
Nursing bra fittings and sales. We provide private, personal help to find the kind of nursing bra that is right for you.
Free baby-weight station.
Postpartum Follow-up Program
To ensure the health of mom and baby in the early days, we encourage you to take advantage of our Postpartum Follow-up Program. A mother-baby nurse who specializes in postpartum care will assess baby's health and mom's recovery, and address any questions about feeding or baby care.
Making the transition to parenthood is an adjustment and Overlake is here to help you through it. Your family will be scheduled for a visit at the Mom & Baby Care Center two to three days after you leave the hospital.
Breastfeeding Support
Each new mother and her family are unique and deserve special attention to ensure a successful breastfeeding experience. The Childbirth Center's nursing and medical staff have years of experience in maternal/infant nursing and breastfeeding education. Our certified lactation consultants are available seven days a week while you are in the hospital and by phone or appointment at our Mom & Baby Care Center after you return home.
Overlake supports each woman's decision to breastfeed. Our goal is to assist families by providing education about breastfeeding's many benefits, initiating and maintaining the breastfeeding process, infant nutrition, and managing breastfeeding in special situations including multiple and premature births.
International board-certified lactation consultants and lactation specialists are available to provide breastfeeding support services upon request from patients, nursing and medical staff. You may make as many lactation appointments with us as needed. In addition, you do not have to deliver your baby at Overlake in order to meet with our lactation consultants, all mothers are welcome to use our services.
To make an appointment to see a lactation consultant, or to get information about what to expect of a lactation appointment or retail breastfeeding supplies, call 425.688.5389. Lactation consultants are available 16 hours a day, seven days a week to provide support and answer questions.
Breastfeeding Tips
Breastfeeding is a learned skill for both you and your baby. Be patient as your baby practices how to latch and suck correctly, and as you learn about your baby's feeding cues, positioning and latching baby at the breast.
How Do I know When My Baby Needs to Eat?
Your baby will give you feeding cues to tell you when they are getting hungry, such as:
Increasing movement during sleep.
Hand to mouth movements.
Mouth opening and closing.
Sucking motions.
Side-to-side head movements.
In the early days, babies may be extra sleepy. If baby does not cue, wake baby every three hours to attempt breastfeeding.
How Often Does My Baby Need to Eat?
Be certain baby gets at least eight feedings in a day. Most babies feed eight to 10 times or more per day. They may cluster feed-bunching several feedings close together. Remember, breast milk is made on a supply/demand basis. The more regularly milk is removed from the breast the more milk will be made.
How Long Should a Feeding Last?
Babies can nurse for long periods of time and generally do not have a set feeding schedule in the early weeks. Allow baby to breastfeed until they show signs of fullness, such as sleepiness, less vigorous sucking, or coming off the breast asleep and relaxed. Let baby remain at the first breast offered as long as they are actively sucking and swallowing. Do not limit time at the breast. Each feeding should be at least 10 minutes. If baby falls asleep before then, see information on sleep babies below.
How Do I Know My Baby is Getting Enough to Eat?
During feedings, listen for swallowing. Notice if baby is satisfied and sleeps between feedings.
Keep track of the number of wet diapers and diapers with stool baby has each day.
Wets:
One wet diaper in first 24 hours.
Two wet diapers in second 24 hours.
Three wet diapers in third 24 hours.
Once milk comes in, at least five to six wet disposable or six to eight cloth diapers per day.
Stool:
At least one dirty diaper in first 24 hours.
Meconium (thick, black, tarry stool) in first one to two days.
Loose brown-green on day two or three.
Loose mustard yellow on day four to five.
Weight loss should stop around day four. Baby should be back to birth weight in two to three weeks. If it's taking longer, contact a lactation consultant.
What is a Good Latch?
A good latch is when baby is at the breast with a good attachment to the areola that allows successful feeding. A good latch is important for baby to breastfeed effectively and also for your comfort. During the early days and weeks, it can take time and patience for your baby to latch well.
Signs of a Good Latch:
Baby's lips are around the nipple and the areola, not just the nipple.
The top lip will be closer to the nipple and some areola shows above the top lip.
More areola is taken in with the lower lip than the top lip.
Baby's has "fish lips" — lips are flared out on the breast, not tucked in.
You hear baby swallow after every one or two sucks. Some babies swallow too quietly to hear, so listen for a slight pause in baby's breathing, which shows he/she is swallowing.
You see a "wiggle" where baby's ears meet its temples.
Signs of an Incorrect Latch:
You feel pain.
You hear clicking or sucking noises.
Baby comes easily off the breast.
Baby swallows little or not at all while at the breast.
Baby's lips are tucked in.
Your nipple is flattened or creased after feeding.
Sleepy Babies
Wake and unwrap baby for feedings.
Use waking techniques through the feeding to maintain active sucking (chin push, shoulder rub, rub behind baby's ear, tickle the feet, rub the back).
Stimulating Milk Letdown
Massage breast briefly before feedings to stimulate the milk let-down reflex. Warm compresses can be used.
Gently pill roll and stretch your nipple to make latch-on easier. This also stimulates lactation.
Express a drop of colostrum onto your nipple to encourage baby to latch and suck.
Provide breast support to allow baby to maintain their latch. Keep thumb and fingers behind the outer edge of the areola.
Latch baby only when his/her mouth is wide like a yawn with his tongue down and forward over their lower gumline.
Check your positioning to be certain baby is facing you and in close, nipple to nose. Bring baby to the breast chin first. Focus on getting baby's gums beyond the base of your nipple and up on the areola.
Avoid pacifiers for the first two to three weeks.
Check that the latch is correct — lips curled outward, baby stays on breast after latching, no noise as baby sucks, suck is rhythmic with visible jaw drops, swallowing can be heard, no nipple pain.
Preventing Sore Nipples
Note that any nipple discomfort decreases within a minute of baby latching. Reposition and relatch baby as needed until comfortable.
Break baby's latch when taking baby off the breast.
Use expressed breastmilk on your nipples after feedings to treat soreness.
After I Leave the Hospital, Where Can I Go for Help?
If you have problems latching the baby, develop sore nipples or become engorged:
Review the discharge teaching sheets for information.
Contact a lactation consultant:
425.688.5516
Monday - Saturday
9 a.m. to 5 p.m.
Lactation Appointments
Breastfeeding and milk supply is assessed and baby's growth is assessed. We provide one-on-one consultations and try to meet mom's goals for feeding.
At your lactation appointment you may expect:
Baby weight check
An observed feeding
Troubleshooting of any nursing issues
A feeding plan to be established
Breastfeeding education
Lactation consultant suggestions
You may make as many lactation appointments with us as needed. You do not have to deliver your baby at Overlake in order to meet with our lactation consultants, all mothers are welcome to use our services.
Contact Us
To speak with a lactation consultant, call 425.688.5516.
To make an appointment, call 425.688.5389.
Dial 9-1-1 for all emergencies.
All lactation consultants are registered nurses with International Board Certified Lactation Consultant (IBCLC).
Postpartum Blues & Depression
The arrival of a baby is like no other experience in life. As a new mother you will feel joy, fear, confusion, exhaustion and love. During the first few days after giving birth you may experience a certain sense of the "blues," including impatience, irritability or crying. These feelings generally come and go quickly. However, as many as one in ten women experience emotional symptoms known as postpartum depression.
Symptoms May Include:
Inability to sleep. 
Lack of appetite.
Deep sadness and frequent crying.
Feeling angry or irritated with your spouse/partner or your baby.
Feeling out of control, hopeless or worthless.
For additional information, visit Postpartum Support International.
Feeding Your Special Needs Baby
Overlake's Outpatient Nutrition Services has registered dietitians specially trained in the unique nutrition needs of neonates and premature infants. They can assess an infant's overall status and provide nutrition recommendations to help ensure appropriate growth and development.
An order from your child's physician is necessary to make an appointment. Learn more about Overlake's Infant Nutrition Clinic or call 425.688.5485.
Mom & Baby Care Center Boutique
The one-stop shop for every new mom and baby. It's even a great option for shower gifts. Every item we carry at the Mom & Baby Care Center Boutique is designed with the new mom and new baby in mind.
Here you will find everything from the practical to the adorable. We carry breast pumps and accessories, lactation supplies, nursing pillows, preemie and newborn clothing, baby gifts, baby carriers, and newborn hats in all styles and colors. New items arrive every week.
Come in and get fitted with a nursing bra, sleep bra, bustier or tank by a certified bra fitter. We have the largest selection of nursing bras and accessories in town and will find the right fit for you. No appointment necessary.
Monthly Specials - 2019
March: 20% off Dr. Brown's baby bottles, 2-pack
April: 20% off nursing pillows
May: 20% off nursing bras
June: 20% off baby carriers
Breast Pump Sales and Rentals
We offer the best breast pumps and kits for pumping. We also have Medela parts, tubing, faceplates, diaphragms, vehicle lighter adapters, battery packs and foreign travel conversion kits.
We rent hospital-grade Medela Symphony Pumps (Yellow).
Breast Pump Sales
Your baby deserves the best, so come in and learn about what a personal breast pump can do for you. What makes us different from retail and online stores? We offer you education and training for using your pump, where other stores do not. We have highly trained lactation education specialists to answer all of your questions.
We sell the following breast pumps:
Medela Pump In Style Original
Medela Pump In Style Advanced Over the Shoulder
Medela Pump In Style Advanced Backpack
Medela Harmony (Manual Pump)
We offer personalized service and competitive rates. Visit us in Bellevue and find the right pump for your specific needs.
For questions about rates or to extend your breast pump rental, call 425.688.5819.
Breast Pump Parts Sales
Looking for a part for your Medela pump? We carry a wide assortment of Medela parts and accessories. 
Other Nursing Supplies
Certified Bra Fittings
Make nursing easier by obtaining a certified bra fitting. We are the only certified bra fitting establishment on the Eastside. You will be fit by knowledgeable staff who are lactation educators and know how to fit a nursing bra so as not to compromise lactation. No appointment needed.
Common Questions
When Should I Come in for My Bra Fitting?
Approximately seven to 10 days after your baby's birth, after your milk has come in.
Why Should I wait Seven to Ten Days?
Because your breasts can change markedly in the first week, then they stabilize to the size you will be throughout your nursing.
What Sizes Do You Carry?
Sizes B - K (30 - 48+ inches). We carry the widest variety of nursing bras in Washington. 
What if I Need a Bra Before Delivery or During the First 10 Days After Delivery?
Come in for a relaxed fit "sleep bra" fitting.
Not pregnant or nursing and looking for a "certified" bra fitting? Many women today are wearing the wrong size bra. Our lactation educators are happy to fit you whether you are nursing or not. A certified bra fitting will make a difference in how you feel and in how your clothes fit. 
Nursing Tops
Looking for a cami/tank to nurse in? We have a variety to fit your needs.
Hands Free Pumping
Come in to be fit for your hands-free pumping bra. This is a must-have for moms returning to work or busy moms with another sibling to attend to.
For questions regarding bras, apparel and various aids, call 425.688.5819.
Postpartum Support Belts
Seeking that sleek pre pregnancy look and/or abdominal support after delivery? Come check out our postpartum support belts. They are perfect for use under clothing and are latex-free.
Sling Fittings
Wearing your baby is an important part of newborn bonding. Buying from the Internet can be hazardous as slings must be "fit" specifically to the wearer. Come in and get the right fit from the start. You and your newborn will both appreciate it.
We carry a variety of functional and fashionable slings. No appointment is necessary.
Baby Weigh Scales
As a service to new parents, we offer baby weigh scales for your use. Please bring in your baby and we will show you where our weigh scale is located.
At times your nurse will advise you to weigh and record your baby's weight for a lactation consultant to review.
Hospital-grade baby weigh scales are also available for rental and automatically calculate breast milk intake from pre- and post-feeding weights.
We rent Medela Baby Weigh Scales. For questions about scale rental rates, or to extend your rental, call 425.688.5819.
Family Support Groups
Balance After Baby: For those experiencing postpartum disorder or struggling with their new role as a mother.
P.S. Support Group: Support for Miscarriage, Stillbirth and Infant Loss
La Leche League: Breastfeeding support and information.