The Circle of Excellence is a giving circle for Overlake supporters who make annual gifts of $1,000 or more. These invaluable donors are dedicated to ensuring that world-class medical care is here for the Eastside.
Benefits
We are pleased to offer the following benefits in appreciation for your support:
Your name on the donor wall.
Invitations to educational events.
Opportunities to meet Overlake physicians and leadership.
Impact reports to keep you in the loop.
Become a Member
Overlake Medical Center Foundation raises funds to support Overlake's vital programs, ensuring we meet the health and wellness needs of our growing Eastside community. Members who contribute $1,000 or more each year automatically become members in our Circle of Excellence donor circle. To thank you for your support, you'll be invited to special behind-the-scenes tours and special talks with Overlake providers and leaders. At this time, Circle of Excellence events are being offered in an online format.

Recent Events
Wellness in the Era of COVID-19  | Friday, August 27, 2021
Dr. Jennifer Garcia-Rabbat  discussed strategies for keeping yourself healthy and well in a challenging time. Topics included weight management, nutrition, exercise, sleep, mental health, and more. Resources offered during the presentation included:
The Search for Sleep  | Monday, April 12, 2021
Good quality sleep is essential for your health but may be hard to come by. Dr. Scott Bonvallet discussed the work of Overlake's sleep medicine clinic and how it is helping the Eastside get some rest.
Healthcare 2021: The Accelerating Pace of Change | Monday, December 7, 2020 
Overlake CEO Mike Marsh presented a discussion of the lessons and achievements of 2020 and what's in store for 2021. 
Mental Health in the Age of COVID | Monday, October 19, 2020
How Overlake is helping people cope when everything has gone wrong.

Dr. Juan Antonio Avila, Overlake's Medical Director of Psychiatric Services, presented an online discussion of the mental health impacts of the pandemic and the Overlake programs that are helping our community find stability in an uncertain time.
 
If you would like to download the slide deck, please click here.
COVID-19: Current State of the Pandemic and Preparations for the Future | Friday, August 21, 2020

Chief Medical Officer David Knoepfler, MD, presented a virtual update on COVID-19, Overlake's ongoing response, and plans for caring for our community as the future course of the pandemic unfolds. Please click the video to view the recorded presentation.
If you would like to download the slide deck, please click here.

 
Overlake's Cancer Center Update  | Friday, June 19, 2020
Hosted by CEO Mike Marsh

Dr. Kristi Harrington, Medical Director of Cancer Services, and Jon Duarte, Chief Strategy Officer,  presented the program's accomplishments to date and exciting future plans. Please click to view the recorded presentation.
 
Past Events
Heart Month, Heart Talk – Overlake's Structural Heart Program | February 28, 2020
Dr. Ronnier Aviles, Dr. Scott Louis and Dr. Robert Rho presented on our comprehensive, leading-edge structural heart program and how our new operating rooms are supporting innovative treatments.
Image


New Frontiers in Headache Management | Thursday, September 26, 2019
Headaches are more than an occasional annoyance. For some, they may be severe and debilitating. Kate Kennedy, ARNP-BC, CAQ in headache medicine, spoke on the work of Overlake's new headache clinic and the treatments that are changing lives.
Image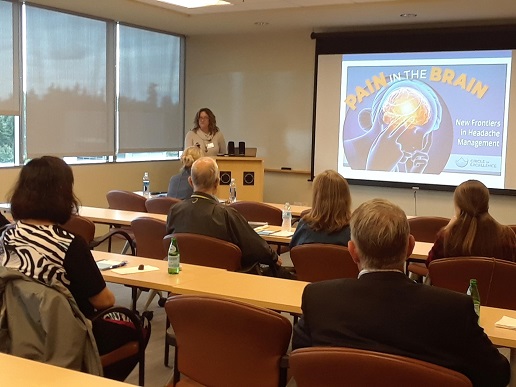 The Opioid Crisis: New Initiatives for the Eastside | February 28, 2019
Dr. David Knoepfler, Overlake's Chief Medical Officer, presented an overview of the national crisis of opioid abuse and Overlake's response to it. With opioid abuse and overdose deaths reaching epidemic proportions across the country, it has become critical for healthcare providers to take action. Overlake has used data and technology to help patients manage their prescriptions appropriately and to ensure that our own prescribing reflects best practices.
Neuroscience Update  | November 6, 2018
Dr. Abhineet Chowdhary gave a presentation on Overlake's work in treating strokes at a breakfast event for Circle of Excellence members. Overlake ranks in the top 10% of hospitals nationwide for our stroke program, and our 24/7 capability means we are here for anyone who has a stroke on the Eastside. Attendees learned about advanced treatments and successes as well as directions for the future. Click here to view a video illustration of neuro thrombectomy,a technique used at Overlake
Image