The Circle of Excellence is a giving circle for Overlake supporters who make annual gifts of $1,000 or more. These invaluable donors are dedicated to ensuring that world-class medical care is here for the Eastside.
Benefits
We are pleased to offer the following benefits in appreciation for your support:
Your name on the donor wall.
Invitations to educational events.
Opportunities to meet Overlake physicians and leadership.
Impact reports to keep you in the loop.
Become a Member
Overlake Medical Center Foundation raises funds to support Overlake's vital programs, ensuring we meet the health and wellness needs of our growing Eastside community. Members who contribute $1,000 or more each year automatically become members in our Circle of Excellence donor circle. To thank you for your support, you'll be invited to special behind-the-scenes tours and special talks with Overlake providers and leaders. 
Recent Events
New Strategies in Dementia Care | Thursday, June 15, 2023
June is Alzheimer's and Brain Awareness Month. Overlake neurologists Dr. Laudann Taravati and Dr. Sarah Koch shared how the Eastside Neuroscience Institute is improving ways we understand, diagnose and treat Alzheimer's and other neurodegenerative diseases.
Click here to view the slides that were shared.
Heart Month Heart Tours: A Behind-the-Scenes Look at Two Cardiac Labs | Monday, February 27, 2023
A physician-led tour of two critical laboratories in our heart and vascular care program.
Dr. Joseph Doucette provided a look at the catheterization lab where complex coronary therapeutic procedures are currently being done. 
Dr. Maheer Gandhavadi took participants through the electrophysiology lab where heart arrhythmias are treated.
Image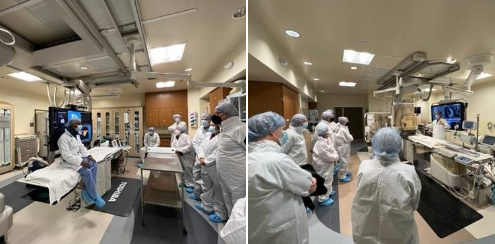 Healthcare 2023: A Conversation with Mike Marsh and Rob Campbell | Friday, December 2, 2022
Governing Board Chair Rob Campbell interviewed CEO Mike Marsh, on the challenges facing the healthcare industry in 2023, along with the many reasons to be optimistic about Overlake's role in serving the community.
Digital Transformation: Using Technology to Improve Patient Care | Friday, October 7, 2022
Chief Information and Technology Officer Scott Waters provided a look at technological solutions that help both patients and providers. 
Eastside Neuroscience Institute: Expert Care for the Whole Community | Friday, August 19, 2022
Dr. David Likosky, Executive Medical Director of the Eastside Neuroscience Institute, discussed the new program, our partnership with other Eastside providers, and how our patients and community will benefit from our combined expertise.
Overlake Cancer Center: Update and Future Plans | Friday, April 29, 2022
Cancer Center leaders Dr. Eileen Consorti and John Russell discussed our program, our partnership with Seattle Cancer Care Alliance and Fred Hutch, upcoming initiatives and the extraordinary cancer care we deliver to the Eastside community. 
Cardiovascular Care at Overlake: Vision for the Future | Friday, February, 4, 2022
Dr. Robert Riley joined Dr. Ronnier Aviles discussed the rapid advances in cardiovascular services Overlake has made over the last several years, our current capabilities, and our plans for ongoing innovation and leading-edge care.
Healthcare 2022: Strategic Imperatives | Friday, December 10, 2021
CEO Mike Marsh discussed changes in the healthcare industry and how Overlake will be responding to new challenges in the upcoming year.
Smart Planning in Light of Recent and Potential Legislation | Tuesday, October 19, 2021
Estate-planning expert Lorraine del Prado discussed the implications of recent and potential legislation for taxes, estate planning and charitable giving.
Wellness in the Era of COVID-19 | Friday, August 27, 2021
Dr. Jennifer Garcia-Rabbat discussed strategies for keeping yourself healthy and well in a challenging time. Topics included weight management, nutrition, exercise, sleep, mental health, and more. Resources offered during the presentation included:
The Search for Sleep | Monday, April 12, 2021
Good quality sleep is essential for your health but may be hard to come by. Dr. Scott Bonvallet discussed the work of Overlake's sleep medicine clinic and how it is helping the Eastside get some rest.
Healthcare 2021: The Accelerating Pace of Change | Monday, December 7, 2020 
Overlake CEO Mike Marsh presented a discussion of the lessons and achievements of 2020 and what's in store for 2021. 
Mental Health in the Age of COVID | Monday, October 19, 2020
How Overlake is helping people cope when everything has gone wrong.

Dr. Juan Antonio Avila, Overlake's Medical Director of Psychiatric Services, presented an online discussion of the mental health impacts of the pandemic and the Overlake programs that are helping our community find stability in an uncertain time.
 
If you would like to download the slide deck, please click here.
COVID-19: Current State of the Pandemic and Preparations for the Future | Friday, August 21, 2020

Chief Medical Officer David Knoepfler, MD, presented a virtual update on COVID-19, Overlake's ongoing response, and plans for caring for our community as the future course of the pandemic unfolds. Please click the video to view the recorded presentation.
If you would like to download the slide deck, please click here.
Overlake's Cancer Center Update | Friday, June 19, 2020
Hosted by CEO Mike Marsh

Dr. Kristi Harrington, Medical Director of Cancer Services, and Jon Duarte, Chief Strategy Officer, presented the program's accomplishments to date and exciting future plans. Please click to view the recorded presentation.